Investor Overview
ICF (NASDAQ:ICFI) is a leading provider of professional services and technology-based solutions to government and commercial clients.
---
ICF (NASDAQ:ICFI) is a global consulting and technology services provider with more than 5,000 professionals focused on making big things possible for our clients.

We are business analysts, public policy experts, technologists, researchers, digital strategists, social scientists and creatives. Since 1969, government and commercial clients have worked with ICF to overcome their toughest challenges on issues that matter profoundly to their success. We're helping clients turn big goals into realities every day.
Stock Information
(Common Stock)

Exchange

Price

Change

(%)

Volume

52 Week High

52 Week Low

Market Cap

PE Ratio

Data as of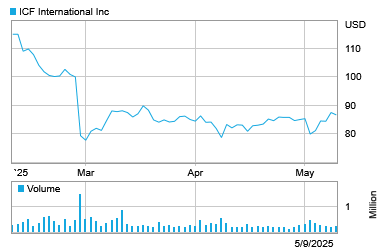 Copyright West LLC. Minimum 15 minutes delayed.