Investor Overview
ICF (NASDAQ:ICFI) is a global provider of consulting and digital services to government and commercial clients.
---
ICF (NASDAQ:ICFI) is a global consulting services company with over 7,000 full- and part-time employees, but we are not your typical consultants. At ICF, business analysts and policy specialists work together with digital strategists, data scientists and creatives. We combine unmatched industry expertise with cutting-edge engagement capabilities to help organizations solve their most complex challenges. Since 1969, public and private sector clients have worked with ICF to navigate change and shape the future. Learn more at icf.com.
Stock Information
(Common Stock)

Exchange

Price

Change

(%)

Volume

52 Week High

52 Week Low

Market Cap

PE Ratio

Data as of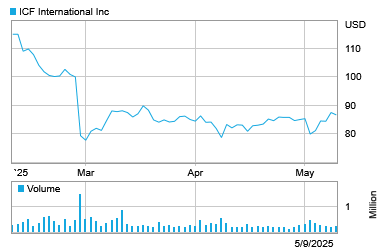 Data Provided by Refinitiv. Minimum 15 minutes delayed.